Background
The KENBAK-1 was developed by John Blankenbaker (from whose surname it takes its name) in the early 1970s as a teaching tool. The guiding criteria were that it should be low-cost, educational and able to satisfy users with simple programs. It could be serial and slow, which would reduce costs and yet create the desired environment. It would have to handle as many programming concepts as possible. Due to its small size, the native language would be machine language. Above all, it had to be a stored-program computer (Von Neumann machine). The aim was to design a simple computer.
Designed before microprocessors were available, its logic consisted of 132 standard TTL integrated circuits mounted on a single PCB. Serial memory was implemented using 2 MOS shift registers of 1024 bits each, for a total of 2048 bits. Input was made via switches and output was displayed via LEDs. Although the computer had a clock of 1 MHz, it processed only a few hundred instructions per second because it had a serial architecture, so it processed only one bit at a time.
Critical issues
• PCB has to be made starting from photos: high-resolution ones are available but with components mounted, those without components are low-resolution ones. We'll try to overlap them to get the complete traces.
• There is one component (1404a) quite rare, and 4-5 others of medium rarity.
• Case dimensions have to be deduced from indirect informations, such as photos and proportions compared to other objects whose real dimensions are known.
• Need to reproduce the mechanics.
Realization
The realization of the printed circuit was made possible thanks to the patient work carried out by Stefano Ferilli (printed circuit design) and Gianfranco Mazzarello (production of the gerber file essential for printed circuit production). Subsequently, the team composed of the manager, Michele Perniola, and Stefano himself, moved on to the realization of the prototype. The realization of the front panel was made possible thanks to the electrical components and the metal hexagon made available by Stefano. The realization of the case was made possible thanks to the commitment and competence of Vito Fariello.
Here are some photos that show the work done.
December 30, 2021 update.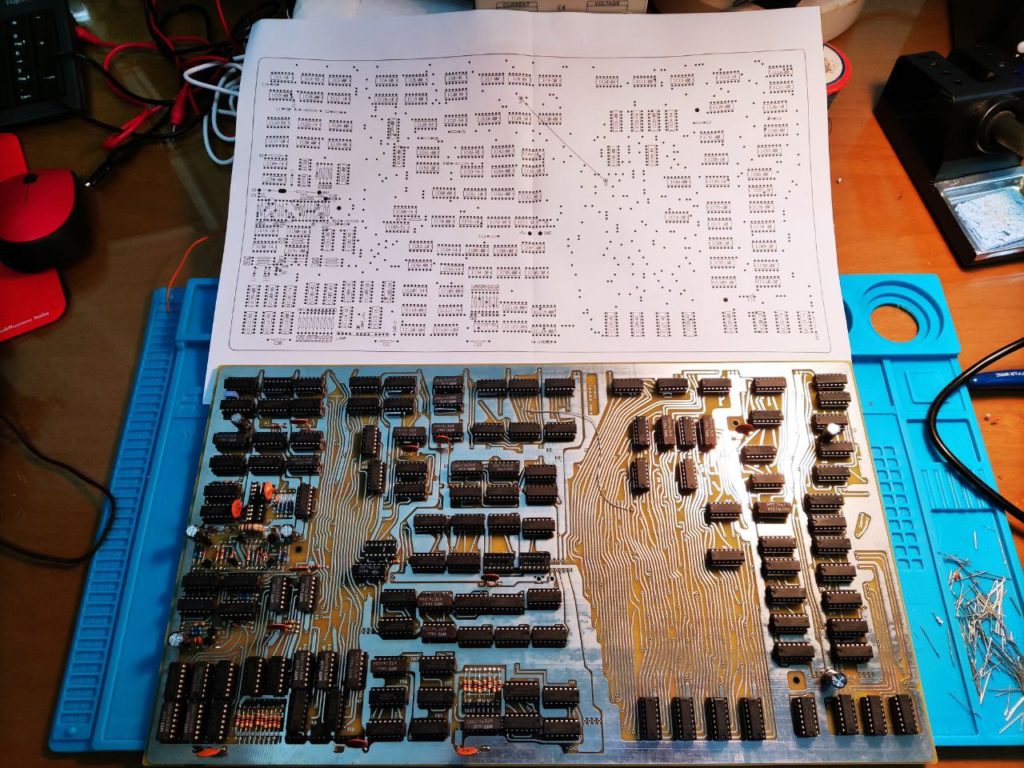 January 15, 2022 update.
January 24, 2022 update.
Paper labels were attached with transparent magic tape. It's a temporary solution we can remove without causing any damage to the panel.
The key caps made by Vito Fariello were fitted.
January 31, 2022 update.
Front panel wiring.
April 13, 2022 update.
Short circuit hunt on the printed circuit board.
… there is no short circuit. Unfortunately SN74LS54 ICs have been supplied instead of SN7454 – this is one of the few cases where the '74LS' series IC is not a valid substitute for the corresponding series '74' as they have a completely different pinout 😖 – We had to order correct ICs:  they should arrive in the next few days.